Clumsy Amaq News Agency
Updated at by
ospi
Two observations about Amaq News Agency's reports on the battle of Mosul. Amaq (wikipedia) covers news from the ISIS/ISIL/IS/Daesh/Da'ish (later IS) side of conflict.
1. Airstrike at Ibn al-Athir Teaching Hospital in Mosul 2016-12-29
The hospital is located (Wikimapia.org) in Nurqal neighborhood near Mosul University and was previously featured in February 2016 in Amaq's non-war related reports. The report included few pictures like outside photo with an ambulance, a neonatal unit, an Siemens MRI machine. And just a few days before the airstrike on 2016-12-25 Amaq released a video showing the daily activities at the hospital.
Events of 2016-12-29 were reported in following order:
1) Amaq reported in it's newsflash ("short news") section that an airstrike hit a hospital in Mosul.

2) Central Command reported Coalition strike results in possible civilian casualties
3) Amaq released a video from the scene
In the video people are extinguishing destroyed ambulance outside the hospital entrance . What makes this incident interesting is the charred recoilless rifle (SPG-9) in the back of the ambulance. Information about the SPG-9 on Wikipedia.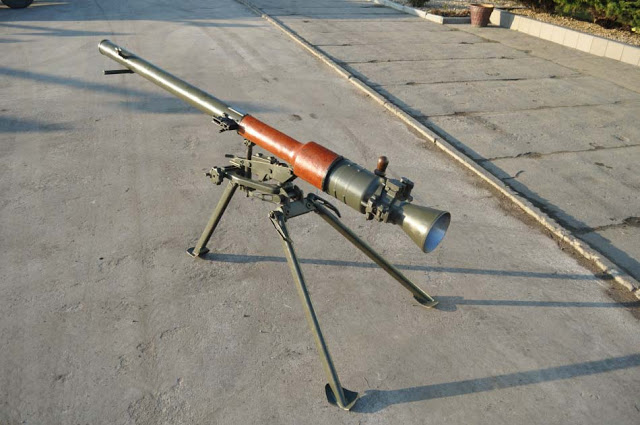 Which implies following:
No-one editing or approving release of the video was familiar with SPG-9 weapon.
IS disregards laws of war by moving combatants and weapons with ambulances.
IS disregards laws of war by storing weapons inside hospital premises.
In all the IS's narrative of victimhood featuring combat ambulances is quite silly and later, as government forces advanced in Mosul, IS burnt the hospital. ISIS torches Ibn al-Athir Hospital in Mosul
2. IS combatant firing SPG-9 in Mosul
Video was published around 2017-02-12 featuring two shots of combatant firing a SPG-9 at two different locations. The timeline is broken for both engagements :
First shot:
Combatant aiming with SPG-9
Person shown on the roof looking at the floor. See red fabric hanging over the edge and solar panel(?) position.
Combatant firing SPG-9
Projectile hits a chair on the rooftop. Note the position of the red fabric before explosion
Explosion throws the solar panel and red fabric around in to positions shown at 2. pause point
Second shot:
Combatant aiming SPG-9
Person shown on the roof. Note the horizontal shadow casted by the rooftop.
Combatant firing SPG-9.
Projectile hitting the wall. . Shadow casted by the rooftop is approx. at 45 degrees and shadows casted by the fabric on the left are longer than in 2. pause position. These videos are at minimum hours apart.
The trouble of setting up and editing the shots with broken timelines is quite silly.